3 Most Exhilarating Biking Trails Across India
One of the most empowering things you can do with your life is to be passionate about biking- and if you are a biker in India, you are definitely a lucky man! With its varied terrains, climates and sceneries, India is a treasure island for biking enthusiasts.At Golden Riders, we believe that there is a season for every motorcycle ride. A time when the roads and trails yield up their secrets, when the landscape blooms in a way that is uncanny, and when truly – adventure calls. So here's our pick of most iconic rides that define the motorcycling terrain of India!
Delhi - Chandigarh - Manali - Leh

It does not matter if the biker is a rookie greenhorn or a seasoned pro, the road to Leh will forever be the road to heaven, or Biker's Paradise as it is popularly known. The thrill of the rarified atmosphere, of riding on the world's highest motorable road and of the rich Buddhist culture makes for it being one of the top 10 motorcycling routes in the world too. The ideal riding season is from April to August.
Shimla-Kinnaur-Spiti-Manali

The ride through Spiti Valley is another favorite for riding enthusiasts. It gets you passing through some of the highest villages in the world, beautiful views of the Satluj River and snow-capped Himalayan range. This route is best travelled through from April to October.

NH17 from Mumbai to Goa 

If you wanted to, you could keep going on from Goa to Cochin and Trivandrum if you fancied a longer ride. This route is one of the most beautiful ones in India, and a completely different one from the high altitudes mentioned so far. Get a feel of riding through seemingly foreign roads as you pass by the pristine coastlines and beaches of South India. This route is best travelled during winter - or anytime between October to February.
"I can think. I can sleep. I can move. I can ride my bike. I can dream."

Great rides comes with great responsibilites and we make sure your rides are safe with our gears check them out here.
Your Email Address Will Not Be Published. Required Fields Are Marked *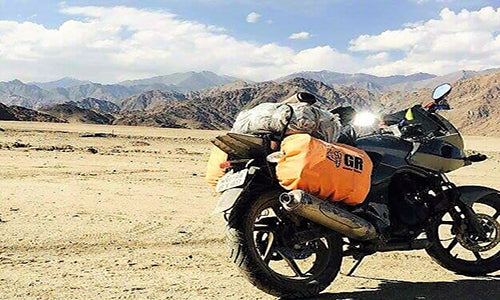 Subscribe to our newsletter and receive a selection of cool articles every weeks