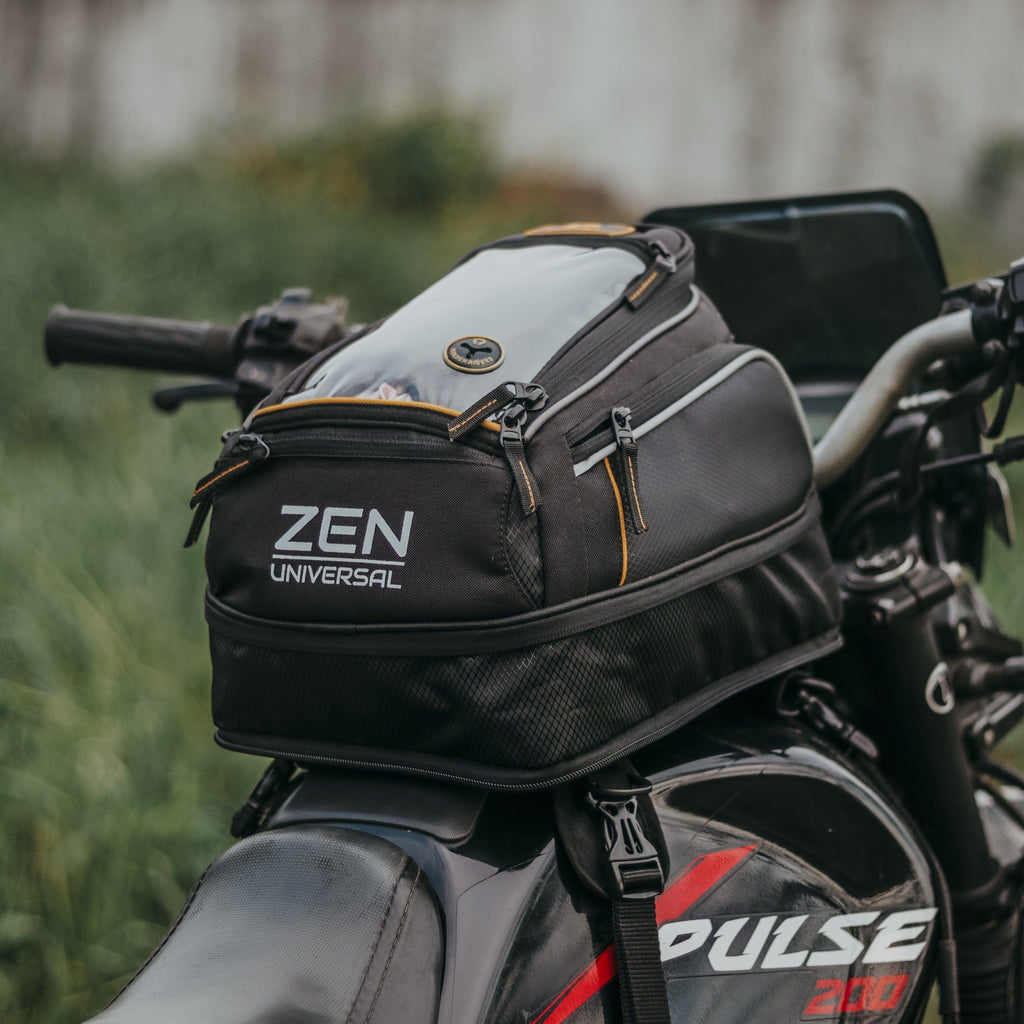 ZEN is an expandable, non-magnetic tank bag that comes with 4x high-quality push-lock straps. Although it is non-magnetic, Zen can easily be mounted on both metallic & Fiber motorcycle tanks pretty conveniently.
While compressed, it has a big 7L+ volume for city rides and even bigger 14L+ on expansion for long tours. It's comfortable to mount & use while riding and comes with safe-n-sound multiple night-reflectors for the safety of you and riders around you during low visibility areas, minimalist shape for style & peak comfortability, touch-screen cover for greater accessibility, universal fit, anti-scratch fabric to keep your tanks new forever, rainproof cover to enjoy the feel of riding even during rains, and much more to enjoy your ride to the fullest.

EXPANDABLE It is a small sized bag for riding but on expansion it is almost a good size, that makes it the perfect option for riding for a few hours or a day or long distance. Expansion at bottom gets good space to carry essentials without hassle, adds another 9 liters to overall holding capacity.
NIGHT REFLECTORS It safeguards rider with reflective taping at both sides of the bag, which makes it highly visible in low/poor light conditions.

MINIMALIST SHAPE Utilitarian design with minimalist shape & more retaining potential. It offers more storage capacity, with a total volume of 13+ liters.

TOUCH SCREEN SENSITIVE The TPU screen cover is highly sensitive and responsive to touch, which allows the user to access the phone screen when it's inside the pouch
UNIVERSAL FIT Zen is designed to fit well on any & every kind of motorcycle with push-lock straps for non-metallic as well as metallic tanks.

ANTI SCRATCH FABRIC The backside of the bag is made using anti-scratch fabric, that prevents scratches/marks on the metal surface of the tank.

INTACT GRIP The aerodynamic shape of the bag & Placement of push-lock straps allow firm & intact grip while riding on different terrains. Possible with 4 x adjustable straps.
RAINSTORM COVERS The bag has an additional snug fit rainstorm cover that safeguards the bag against rain/drizzle and keeps essential dry and safe.
Warranty: Zen is insured with 365 Days warranty and 7 Days exchange. Any manufacturing defect shall be fixed by us. 
Note: It is advisable and mandatory to make an unboxing video to make the exchange process hassle-free. (if applicable)
FOR INSTANT ANSWER TO ANY OF YOUR QUERIES, SIMPLY CLICK THE CHAT BUTTON!