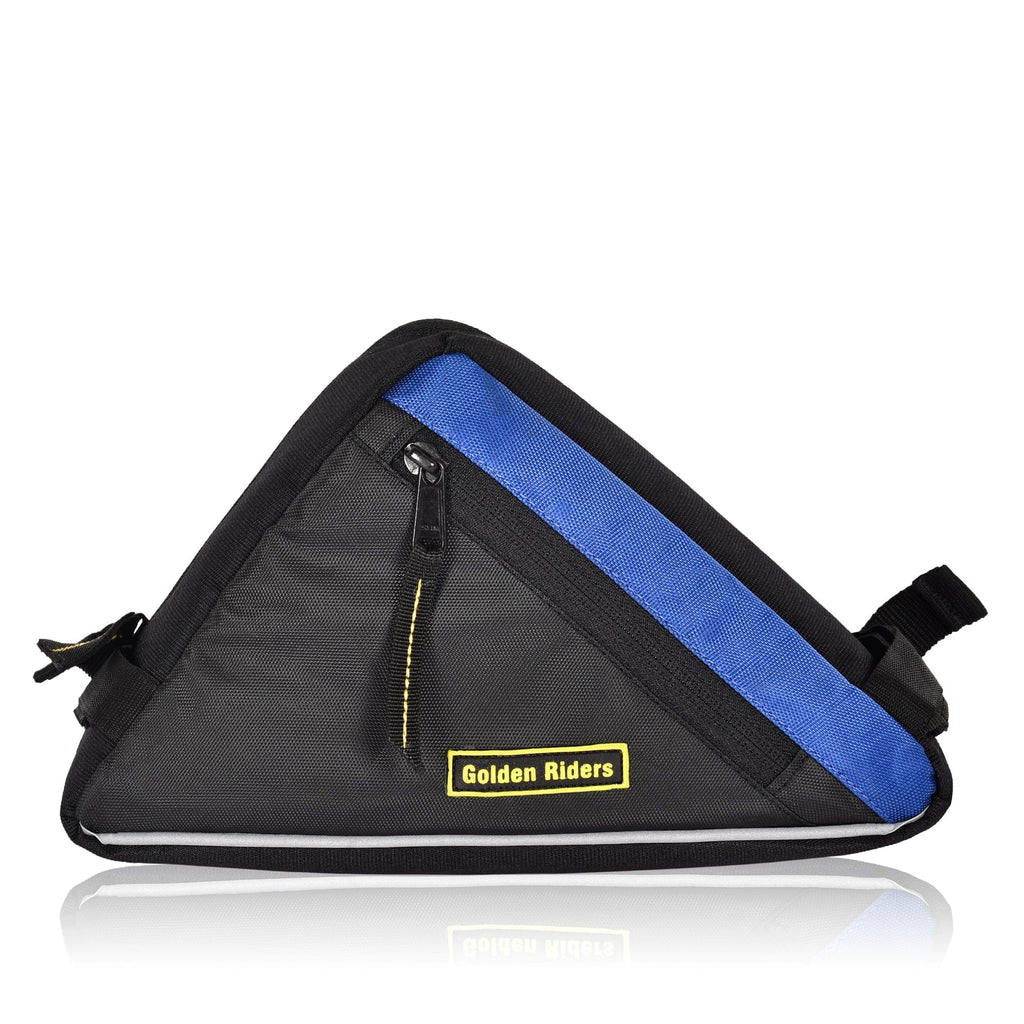 Golden Riders tri-frame accessory bag is smart & practical accessory for riders. It is a triangular shape bag, quite handy and easy kind of accessory for bicycle riders while going for a small or long ride. It is spacious to carry essentials like spare tube/ towel/ keys+cash/ wallet/ etc. It is designed to be access while sitting on bicycle, without getting off bicycle. Made with water repellent fabric, zippers and other materials. It has secured mounting easy to mount and release. It is a true value of money product.
PRODUCT & DESIGN: Golden Riders's Triangular Frame bag is smart accessory for bicycle riders while going for small or long ride. It has triangular shape and could be easily mount or release. Handy enough to carry essentials like towel/wallet/munches/medicines etc. anything as you need.
DESIGN & SHAPE: It is designed to be minimalist in shape for hassle free paddling. It is triangular in shape for secured mounting on bicycle. SIZE - 21 x 18 x 25 x 6 cms. Volume - 1 litre.
FIT AND FEATURES: It is an universal fit on almost every bicycle. Featured with one main pocket and one slot pocket on outside. Superior nylon adjustable straps for secured mounting. Easy to mount and release from the bicycle. Scratch free layered fabric to protect paint/coating.
MADE/ RAW MATERIAL: Heavy/ Fine Titron D 6/3 coated fabric + D 6/6 PVC fabric. Fine-polyester fabric. Heavy zippers & pullers. Nylon harness straps. Heavy plastic fittings & others. No cheap materials used.
QUALITY ASSURANCE: Tried & tested. Warranty for 12 months against any manufacturing flaw.